Start my program with tenor saxophonist BerntRosengren, track from the lp "Plays George Gershwin's Porgy and Bess" recorded in 1996 with Carl-Fredrik Orrje: piano, Per-Ola Gadd: bass, Bengt Stark: drums
Trumpeter Linley Hamilton, track from his new cd "Ginger's Hollow" recorded in 2022 with Derek O' Connor: tenor sax, Cian Boylan: piano, Mark Egan: bass, Adam Nussbaum: drums
Tenor saxophonist Sonny Rollins, track from "Live at the Blue Note" recorded November 14th 1984 with Mark Soskin: piano, Bobby Broom: guitar, Bob Cranshaw: bass, Tommy Campbell: drums
Chaka Khan, track from her cd "What cha gonna do fro me" recorded in 1980 with Dizzy Gillespie
Tenor saxophonist Sam Butera, track from the lp "Thinking Man's Sax" recorded in 1964
The Ben Webster special, track 236/520, this week Ben's lp "Live in Stampen-Stockholm" recorded march 19th 1973 with Teddy Wilson: piano, Sture Nordin: bass, Ed Thigpen: drums, Arne Ryskog: trumpet
The Millennium Jazz Orchestra + Marjorie Barnes, track from the new cd "Both Sides Now" arranger/conductor Joan Reinders and soloist Joao Driessen on tenor sax
Tenor saxophonist Scott Hamilton, track from "Jazzclub Ferrara" recorded February 19th 2022 with Paolo Birro: piano, Aldo Zunino: bass, Alfred Kramer: drums
Tenor saxophonist Johnny Griffin, track from the set "Wes Montgomery at Theater des Champs Elysees" recorded march 27th 1965, the soloist on this track is Johnny Griffin(a fantastic solo!!!) with Harold Mabern: piano, Arthur Harper: bass, Jimmy Lovelace: drums
Alto saxophonist Charlie Parker, track from "The Mega Rare Restored Vinyl lp at Birdland" recorded august 27th 1954 Bird with Strings and Walter Bishop: piano, Tommy Potter: bass, Roy Haynes: drums
The Singers Unlimited, track from the lp "Feeling Free" recorded in 1980 with the Pat Williams Orchestra with vocal arrangements from Gene Puerling
In the weekly show of Take 5 Jazz I will take you into the great world of Jazz. Beyond the mainstream and well known recordings, my show is an entrance to the vast range of all the various styles within the genre, such as Bebop, West Coast jazz, and most notable: Latin. Jazz music knows many faces: from the old American Jazz standards to the British scene, and from big bands to Cool Jazz; ranging from the oldest to the most recent of recordings, every week some of the finest from my collection will be played.
One of my aims is present something unknown every week; to give some airplay to those musicians to whom people pay too little attention to, as well as providing rare recordings of well-known musicians. Take 5 Jazz offers a blend of the familiar and unfamiliar, mostly jazz and sometimes a bit of blues, but always with the intent to find something new and interesting.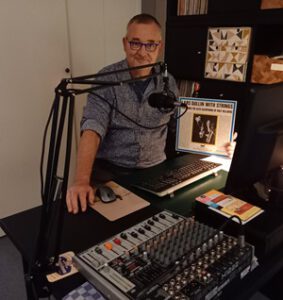 Jan Klein, the man behind Take 5 Jazz
Back in 1997 people, who knew about my passion for Jazz, asked me to start a radio show at a local radio station. Rather than generic pop music usually aired, this new show, Take 5, offered the best Jazz and Blues that was within my ever-expanding collection.
My collection spans a great number of LPs and CDs, and started in the early seventies. At the time, as a little boy, I bought my first LP: Cal Tjader's Latin Kick. This marked the beginning of my love for the genre. The quality of his sound and the quality of performance drew me to Ben Webster. Ben, like Cal, is one of the cornerstones of my collection.
For several years I aired this music, but times change. Progressing from a small local radio station to the World Wide Web, I became fully independent. Now I am able to share my love for the music with an audience from all over the world!
For over forty years after I collected every known recording that Cal Tjader produced, making me one of the few in the world who managed to complete the entire discography of Cal. The combination of Jazz and Latin was what started my love for Jazz, and thus it was something I wanted to give special attention in my show. From October 14, 2002, to July 31, 2018, I aired my entire collection: one track a week, every week. It was a monumental task, and I am proud that I managed to complete it.
Once I reached the end of my Cal Tjader special, I had to switch to a different musician. A poll amongst my listeners finalized my decision: for 520 weeks in a row there will be at least one track of Ben Webster in my show!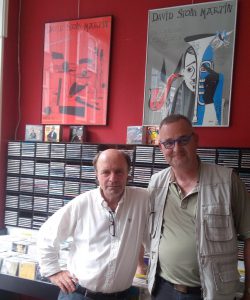 Cal Tjader and Ben Webster are but two examples of the musicians that I count amongst my favourites. The long and wonderful history of the Jazz genre has brought forth many musical geniuses. And while Jazz might originate from the United States, those gifted in the art of music are born all over the world. The jazz scene in Britain, for instance, featured artists such as Tubby Hayes and Phil Seamen. And for me, hailing from Holland, there are many 'local' musicians whom I admire, whose albums I collected. The most notable of these are Jan Akkerman and Rob Franken.
For a more expansive summary of the musicians whose music I appreciate, click here.
A few years ago I picked up a hobby. Next to my big love for listening to jazz music, and sharing this passion through my show Take 5 Jazz, I've started painting.
Please take a look on this page, where I share some of my paintings.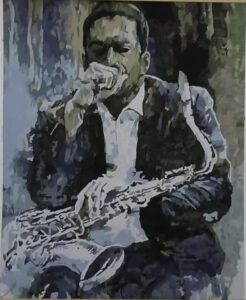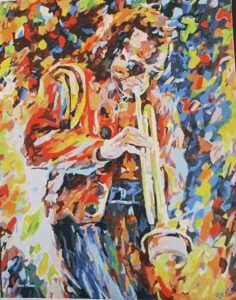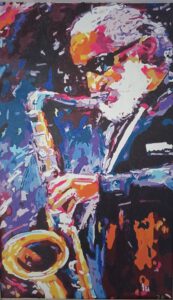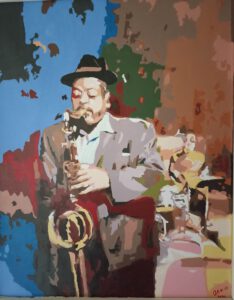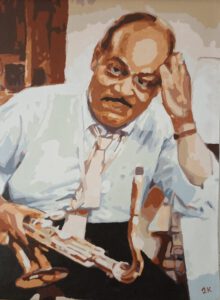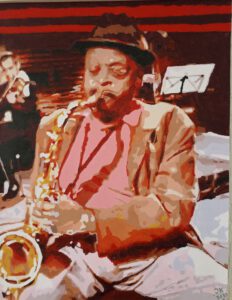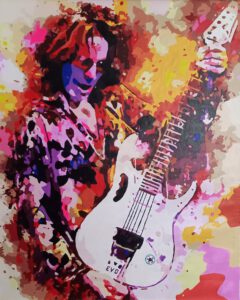 In some cases, before or after concerts, I had the privilege of meeting some of the artists whose music is featured in my show.
(Click to enlarge the picture)
Contact me either through one of the social media buttons on the top of the page, or use the form below to send me an e-mail.