Start my program with the Kenny Clarke/Francy Boland Big Band , track from the lp "Our Kinda Strauss" recorded January 14th 1972 featuring Benny Bailey, Ake Persson, Derek Humble, Johnny Griffin, Karl Drewo, Sal Nistico, Sahib Shihab
The Peter Herbolzheimer Rhythm Combination and Brass , track from the lp "Fat Man Boogie—A Tribute to Swing" recorded November 14th 1981 with Ack van Rooyen, Ferdinand Povel, Bubi Aderhold, Jiggs Whigham, Rob Franken, Bo Stief, Peter Tiehuis, Bruno Castelucci
Drummer Kenny Clarke, track from his lp "The Paris & Cologne Sessions" recorded in 1957 with Don Byas on tenor sax, Fats Sadi: vibes, Francy Boland: piano, Jean Warland: bass, Eddie Busnello: alto sax, Chris Kellens: trombone
Tenor saxophonist Eddie "Lockjaw" Davis , track from the lp "What's New" recorded july 24th 1975 with Michel Attenoux: piano, Patrick Artero: trumpet, Claude Gousset: trombone, Gabriel Garvanoff: piano, Jean-Piere Mulot: bass
The Ben Webster special, track 226/520- this week Ben's lp "Live at Pio"s" recorded February 18th 1964 with Junior Mance: piano, Bob Cranshaw: bass, Mickey Roker: drums
Pianist Stan Tracey, track from the new cd "Under Milk Wood in Hamburg" recorded march 15-18th 1966 with Kenny Wheeler: trumpet/flugelhorn, Bobby Wellins: tenor sax, Jeff Clyne: bass, Jackie Dougan: drums
The Duke Ellington Big Band ,track from " live in Zurich" recorded may 2nd 1950 with tenorist Don Byas as soloist
Vibraphonist Bobby Hutcherson, track from the lp "Stick Up" recorded july 14th 1966 with Joe Henderson: tenor sax, McCoy Tyner: piano, Herbie Lewis: bass, Billy Higgins: drums
The Millennium Jazz Orchestra, track from the cd "Oatts Notes" recorded july 9-10th 2005 composer/arranger Joan Reinders, soloists are Dick Oatts: alto sax, Niek van Wiggen: drums
The Concord Super Band, track from the lp "Live in Tokyo" recorded in 1979 with Scott Hamilton: tenor sax, Warren Vache: trumpet & cornet, Cal Collins: guitar, Ross Tompkins: piano, Monty Budwig: bass, Jake Hanna: drums
Kamuli Community Brass Band:
The Kamuli Community Brass Band runs a very successful music project for poor, vulnerable, street children and youth in the kamuli district rural areas in Uganda. Their efforts have saved many child from a life lost to the streets, abuse, drugs and extreme poverty. The project is called Music for Social and economic empowerment.
One of the project activities is a brass band called Kamuli Community Brass Band, which is helping the disadvantaged youth and children. Their method is using music as a tool to rehabilitate and reform children, and youth Education is the key to fighting poverty in Africa.
The band consists of 140 children, but they share only 24 instruments. That is, if the instruments are not in a poor state where slides can't move or can't be tuned. As such, the Brass Band is in search of donations of instruments and uniforms- whatever you can no long use they can give a new life as they give a chance for the children in the community to learn music.
What makes their challenge even harsher is the Covid-19 pandemic. The Brass Band had to release the children who still had their families, but over 40 children are orphans with nowhere to go but the orphanage run by the project.  Food is scare, and they are struggling to provide medical care and all other basic needs.
If you wish to help, go visit kamulibrassband.org.
In the weekly show of Take 5 Jazz I will take you into the great world of Jazz. Beyond the mainstream and well known recordings, my show is an entrance to the vast range of all the various styles within the genre, such as Bebop, West Coast jazz, and most notable: Latin. Jazz music knows many faces: from the old American Jazz standards to the British scene, and from big bands to Cool Jazz; ranging from the oldest to the most recent of recordings, every week some of the finest from my collection will be played.
One of my aims is present something unknown every week; to give some airplay to those musicians to whom people pay too little attention to, as well as providing rare recordings of well-known musicians. Take 5 Jazz offers a blend of the familiar and unfamiliar, mostly jazz and sometimes a bit of blues, but always with the intent to find something new and interesting.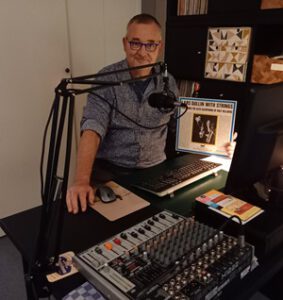 Jan Klein, the man behind Take 5 Jazz
Back in 1997 people, who knew about my passion for Jazz, asked me to start a radio show at a local radio station. Rather than generic pop music usually aired, this new show, Take 5, offered the best Jazz and Blues that was within my ever-expanding collection.
My collection spans a great number of LPs and CDs, and started in the early seventies. At the time, as a little boy, I bought my first LP: Cal Tjader's Latin Kick. This marked the beginning of my love for the genre. The quality of his sound and the quality of performance drew me to Ben Webster. Ben, like Cal, is one of the cornerstones of my collection.
For several years I aired this music, but times change. Progressing from a small local radio station to the World Wide Web, I became fully independent. Now I am able to share my love for the music with an audience from all over the world!
For over forty years after I collected every known recording that Cal Tjader produced, making me one of the few in the world who managed to complete the entire discography of Cal. The combination of Jazz and Latin was what started my love for Jazz, and thus it was something I wanted to give special attention in my show. From October 14, 2002, to July 31, 2018, I aired my entire collection: one track a week, every week. It was a monumental task, and I am proud that I managed to complete it.
Once I reached the end of my Cal Tjader special, I had to switch to a different musician. A poll amongst my listeners finalized my decision: for 520 weeks in a row there will be at least one track of Ben Webster in my show!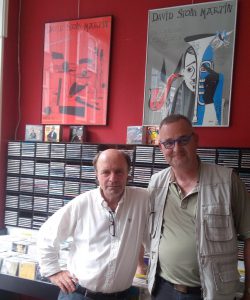 Cal Tjader and Ben Webster are but two examples of the musicians that I count amongst my favourites. The long and wonderful history of the Jazz genre has brought forth many musical geniuses. And while Jazz might originate from the United States, those gifted in the art of music are born all over the world. The jazz scene in Britain, for instance, featured artists such as Tubby Hayes and Phil Seamen. And for me, hailing from Holland, there are many 'local' musicians whom I admire, whose albums I collected. The most notable of these are Jan Akkerman and Rob Franken.
For a more expansive summary of the musicians whose music I appreciate, click here.
In some cases, before or after concerts, I had the privilege of meeting some of the artists whose music is featured in my show.
(Click to enlarge the picture)
Contact me either through one of the social media buttons on the top of the page, or use the form below to send me an e-mail.