Start my program with The Modern Jazz Sextet, recorded January 1956 with Dizzy Gillespie: trumpet, Sonny Stitt: alto sax, John Lewis: piano, Skeeter Best: guitar, Percy Heath: bass, Charlie Persip: drums
Al Cohn and Zoot Sims, track from "Live at Emma-Jazz, Norway" recorded june 14th 1982 with Hank Jones: piano, Ron Carter: bass, Alan Dawson: drums
Tenorist Simon Rigter, track from his album "Growing Up" recorded in 2022 with Vincent Koning: guitar
Tenorist Lester Young, track from "Pres" recorded in 1961 with Hank Jones: piano, Ray Brown: bass, Buddy Rich: drums
The Ben Webster special, track 218/520, this week Ben with a track from the lp "Webster's Dictionary" recorded in England October 12th 1970 with Stan Tracey: piano, Dave Green: bass, Tony Crombie: drums, Alan Branscombe: vibes, Tony Coe: clarinet
Tenorist Bent Jaedig, track from his album "The Red Lightning" recorded December 3rd 1995 with Ben Besiakow: piano, Jesper Lundgaard: bass, Ole Streenberg: drums
Tenorist Stan Getz, track from the double lp "Live at Montmartre" recorded January 28th 1977 with Joanne Brackeen: piano & fender Rhodes, Niels Henning Orsted Pedersen: bass, Billy Hart: drums
Pianist Martial Solal, track from "Suite for Trio" recorded in 1976 with Niels Henning Orsted Pedersen: bass and drummer Daniel Humair
Pianist Horace Silver, track from his lp "Midnight Train" recorded may 8th 1957 with Hank Mobley: tenor sax, Art Farmer: trumpet, Teddy Kotick: bass, Louis Hayes: drums
On tenor and baritone sax Jimmy Giuffre with the Teddy Charles band, Charles plays piano and vibes with Shorty Rogers: trumpet, Curtis Counce: bass, Shelly Manne: drums recorded august 31st 1953
Tenor saxophonist Sonny Stitt, track from his album "Swings the Most" recorded December 21st 1959 with Amos Trice: piano, George Morrow: bass, Lenny McBrowne: drums
Kamuli Community Brass Band:
The Kamuli Community Brass Band runs a very successful music project for poor, vulnerable, street children and youth in the kamuli district rural areas in Uganda. Their efforts have saved many child from a life lost to the streets, abuse, drugs and extreme poverty. The project is called Music for Social and economic empowerment.
One of the project activities is a brass band called Kamuli Community Brass Band, which is helping the disadvantaged youth and children. Their method is using music as a tool to rehabilitate and reform children, and youth Education is the key to fighting poverty in Africa.
The band consists of 140 children, but they share only 24 instruments. That is, if the instruments are not in a poor state where slides can't move or can't be tuned. As such, the Brass Band is in search of donations of instruments and uniforms- whatever you can no long use they can give a new life as they give a chance for the children in the community to learn music.
What makes their challenge even harsher is the Covid-19 pandemic. The Brass Band had to release the children who still had their families, but over 40 children are orphans with nowhere to go but the orphanage run by the project.  Food is scare, and they are struggling to provide medical care and all other basic needs.
If you wish to help, go visit kamulibrassband.org.
In the weekly show of Take 5 Jazz I will take you into the great world of Jazz. Beyond the mainstream and well known recordings, my show is an entrance to the vast range of all the various styles within the genre, such as Bebop, West Coast jazz, and most notable: Latin. Jazz music knows many faces: from the old American Jazz standards to the British scene, and from big bands to Cool Jazz; ranging from the oldest to the most recent of recordings, every week some of the finest from my collection will be played.
One of my aims is present something unknown every week; to give some airplay to those musicians to whom people pay too little attention to, as well as providing rare recordings of well-known musicians. Take 5 Jazz offers a blend of the familiar and unfamiliar, mostly jazz and sometimes a bit of blues, but always with the intent to find something new and interesting.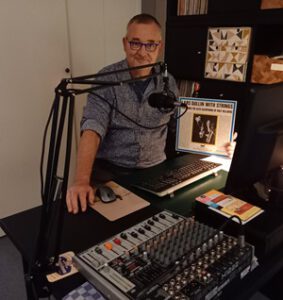 Jan Klein, the man behind Take 5 Jazz
Back in 1997 people, who knew about my passion for Jazz, asked me to start a radio show at a local radio station. Rather than generic pop music usually aired, this new show, Take 5, offered the best Jazz and Blues that was within my ever-expanding collection.
My collection spans a great number of LPs and CDs, and started in the early seventies. At the time, as a little boy, I bought my first LP: Cal Tjader's Latin Kick. This marked the beginning of my love for the genre. The quality of his sound and the quality of performance drew me to Ben Webster. Ben, like Cal, is one of the cornerstones of my collection.
For several years I aired this music, but times change. Progressing from a small local radio station to the World Wide Web, I became fully independent. Now I am able to share my love for the music with an audience from all over the world!
For over forty years after I collected every known recording that Cal Tjader produced, making me one of the few in the world who managed to complete the entire discography of Cal. The combination of Jazz and Latin was what started my love for Jazz, and thus it was something I wanted to give special attention in my show. From October 14, 2002, to July 31, 2018, I aired my entire collection: one track a week, every week. It was a monumental task, and I am proud that I managed to complete it.
Once I reached the end of my Cal Tjader special, I had to switch to a different musician. A poll amongst my listeners finalized my decision: for 520 weeks in a row there will be at least one track of Ben Webster in my show!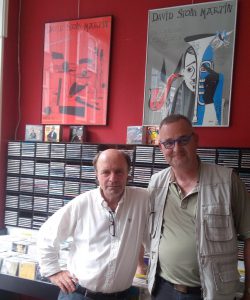 Cal Tjader and Ben Webster are but two examples of the musicians that I count amongst my favourites. The long and wonderful history of the Jazz genre has brought forth many musical geniuses. And while Jazz might originate from the United States, those gifted in the art of music are born all over the world. The jazz scene in Britain, for instance, featured artists such as Tubby Hayes and Phil Seamen. And for me, hailing from Holland, there are many 'local' musicians whom I admire, whose albums I collected. The most notable of these are Jan Akkerman and Rob Franken.
For a more expansive summary of the musicians whose music I appreciate, click here.
In some cases, before or after concerts, I had the privilege of meeting some of the artists whose music is featured in my show.
(Click to enlarge the picture)
Contact me either through one of the social media buttons on the top of the page, or use the form below to send me an e-mail.